In 2012, after several years of observing and considering how poor the learning outcomes among our young people are, we decided we had to do something. We started dreaming, brainstorming, and hoping and we realized that there was a lot to do, a whole lot!
We started to realize there were some major services that needed to be provided to parents and schools and teachers. And as we kept thinking and ideas for the 8 INschools services were coming to us, we started to realize that we weren't just creating some really useful services; we were creating a community of the concerned that can collaborate to bring out the best in our children.
Apart from school reviews and ratings, INschools' is looking to support parents through their child's school life by providing expert advice on various subjects such as child behavior, teaching methods, and more.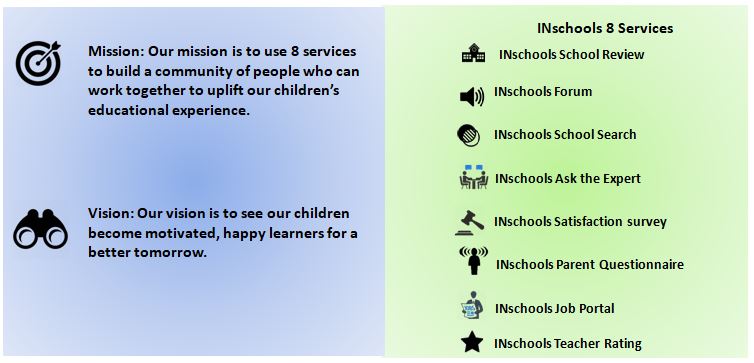 INschools' vision
INschools' services are motivated by a wonderful and noble goal – to greatly uplift Indian children's educational experience. We want to see schools and parents bringing out the best in children and helping them develop into motivated and happy learners. We want to see our children develop into extraordinary people who can meet the challenges of tomorrow.
But this is no easy task. It can't be accomplished by a few; it requires key players to talk to one another and hear each other's voices. Those key players are parents, knowledge experts, publishers, and school administrators. INschools aims to bring together these key players and create a community that can work together and have a remarkable impact on education.
How does do we form this community? It's with our services. Our services, like the school review or the forum, depend on the participation of our community and bring together our community in one way or another.
We believe the services we provide are incredibly useful and will indeed make a wonderful difference!
Why do we have such a vision?
We have this vision because we at INschools believe that we are living in a crucial hour in our history. The fact is that while there's so much marketing and while the education industry in India has become a big business, learning outcomes are actually quite low. India has one of the lowest rankings in terms of what students are actually learning. Action must be taken and it must be taken now. We need a change in our emphasis; we need to start thinking about how to actually help our children learn, overcome learning challenges, and fulfil the entirety of their magnificent potential.
INschools has done some thinking; and we decided to bring together a community using some pretty useful services.
Together, as the INschools community, let's bring out the best in our children so that India can be the nation we all dream to see in the 21st century.